ONE PIECE PRE-CRIMPED HOSE FITTINGS
Our TOPFITS One-Piece Pre-crimped hose fittings is designed for No-Skive solution up to 420 Bar heavy duty applications with full length crimp bite down to the reinforcement wire to ensure maximum crimp integrity. The one-piece fittings is suitable for many no-skive hose type covering low to high pressure applications. We offer steel and stainless steel fittings with the steel fittings featuring a corrosion resistance plating (Cr6 free) that meets the international standards and conforming to strict environment requirement.
TWO PIECE INSERT/FERRULE HOSE FITTINGS
TOPFITS series Two-Piece Insert and Ferrule design hose fittings for easy stocking & combination, with choice of standard shell or interlocking shell. Styled with complete range of end configurations (JIC, NPT, ORFS, SAE, Flange, BSPP, BSPT, DIN, JIS, etc) making it suitable for wide industry coverage. We offer both Stainless Steel and Steel fittings. Steel fittings are Trivalent Chromium plated (CR+3), resulting a more environmental friendly and worker-safe plating process.
UNIVERSAL FERRULE (STAINLESS STEEL)
Partnering with enterprising manufacturer in Europe, we are proud to present the OneGCTMUniversal ferrule (only for SS two-piece type hose fittings) which can be used with 13 different types of flexible hoses, representing a revolution in the field of hose fittings.
The exceptional characteristics of the OneGCTM provide many advantages:
Easy to use: The OneGCTM ferrule reduces the chance of mixing error as it can be used with many hose types.
Reliability: The OneGCTM ferrule patented innovative trapezoidal internal profile always ensures a perfect seal especially when using multi-spiral hoses
Economic: Since the OneGCTM is a versatile product (1 ferrule, many hose types), it can result in stock reduction.
HYDRAULIC TUBE FITTINGS
Our DIN 2353 Tube Fittings are manufactured within the highest quality and widely accepted by different sectors of industry. Tested in accordance to ISO 9227 surface protection requirement, the superior fitting surface protection is able to withstand 480 hours without white rust and 720 hours without red rust, far exceeding the industry requirement. This meet the industry high demand for corrosion resistance, and at the same time, also provide a significantly low price alternative to Stainless Steel material.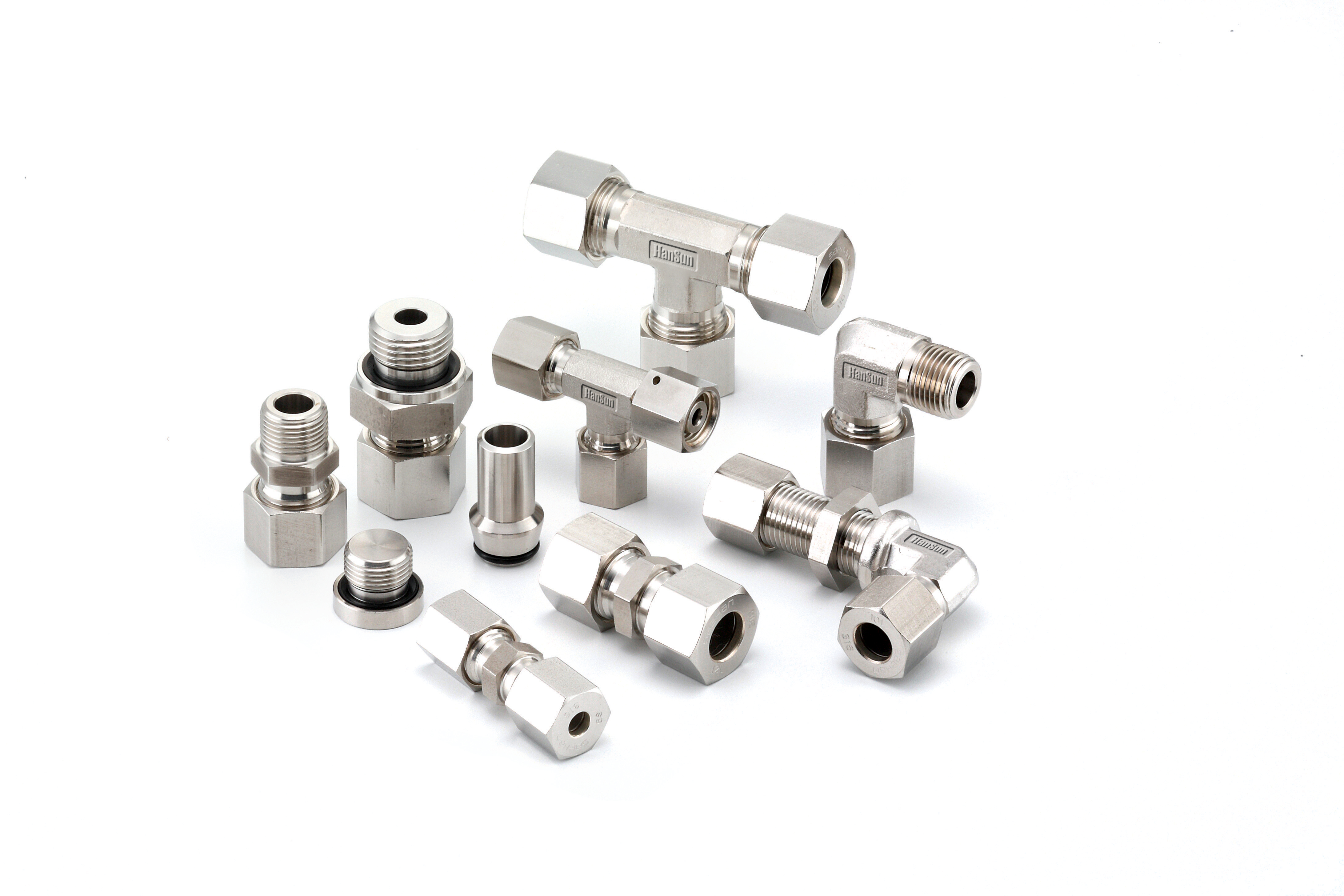 Where high performances are required, as in chemical plants with various fluids, instrumental components with the necessity of the purest flow, fluid conveying systems subjecting to high temperature and stress issues, and Off-Shore conditions, our stainless steel fitting (1.4571 / 316TI) provide the top quality for optimum results.
FEATURES
DIN, ISO, SAE or customised.
Certified by DNV, Lloyd's, TUV and others
Zinc Nickel surface protection and pressure ranges exceeding standard (DIN EN ISO 9227)
Comply with EU directive No. 2000/53/EG for environmental impact
In house production guarantees consistency of quality
3.1 documentation – 100% traceability
Low friction coating on threads reducing assembly torque and remain effective re-make up to 8 times
TOPARTS– your reliable source of Steel and Stainless Steel Tube Fittings!
ADAPTORS
TOPFITS Multi-Selection of Adapters (JIC, NPT, ORFS, SAE, Flange, BSPP, BSPT, DIN, JIS up to 2") is made in accordance to common international and industry standards to fulfil challenging connections needs. We also produce non-standard adapters to meet the customers' out-of-ordinary requirements. Offering both Steel and Stainless Steel, our Steel fittings is Trivalent (CR+3) plated, serving the company societal commitment to an environmentally clean and safe working process.
Characteristics of Quad-ring:
Avoid twisting in the groove.
The seal does not tend to roll in the groove during reciprocating movement.
Low friction. It requires less radial squeeze than a comparable O-ring.
Less squeeze mean less friction, less wear, and thus a longer service life
Very good sealing efficiency. Due to it special profile, a high sealing effect is achieved.
A lubricant reservoir formed between the sealing lips improves start up