RING JOINT GASKET
Ring type gaskets are primarily used in the Oil, Gas and Petrochemical industries to seal flanged connections subject to high pressure and temperatures, and form a metal to metal seal with the flanges. The gaskets fully comply with the ASME B16.20 standards and the API spec 6A requirements (where applicable). All gaskets complying to API Standard 6A are marked with API Monogram Licence No as per API-6A. The gaskets meet the rigid quality requirements for Ring Joint Gaskets set by the American Petroleum Institute (API).
R Series ring gasket can be ordered to two different profiles, oval or octagonal in cross-sections. Both types have identical pitch diameter as the flange groove they correspond to. These gaskets are used in pressures up to 10,000 PSI. The octagonal type has a higher sealing coefficient than the oval, therefore being the better gasket of the two. The oval type is the only gasket that will fit a bottom radiused groove. Flanges with flat bottom v-grooves will accept either style.
RX Series gaskets are interchangeable with R series oval or octagonal rings used on API 6B flanges. RX type gaskets perform excellent in 6B flanged blowout preventer stacks, which requires the additional mass of the RX gasket to support the higher pressures with higher vibrations and heavier weights of these units.
BX Series can only be used with 6BX flanges and 16BX hubs although similar in style to the octagonal gaskets, the BX-Gaskets have been designed for higher-pressure ratings starting at 5,000 lbs. and ending with 20,000 lbs. Pitch diameters on BX gaskets are slightly larger than the pitch diameter of the flange. This forces the gasket to initially seal on its outside angles and secondly seal with its inside angles as the flange is bolted down to respective torque settings.
Gaskets coin themselves (Blend In / Molds) to the surface finish of the groove, forming a custom seal surface. The vent hole on the BX Series through the gasket helps equalize pressures caught between the flange grooves. Gaskets that have been torqued initiating a metal-to-metal seal should be discarded and not reused.
SPIRAL WOUND GASKET
The spiral wound gasket are composed of a metallic continuous strip with a special shaped profile, coupled with a continuous foiling strip evenly wound in concentric spirals under constant stress. The spiral wound gaskets are reinforced on the inner and outer diameters by winding of several electrically welded spirals of metal only.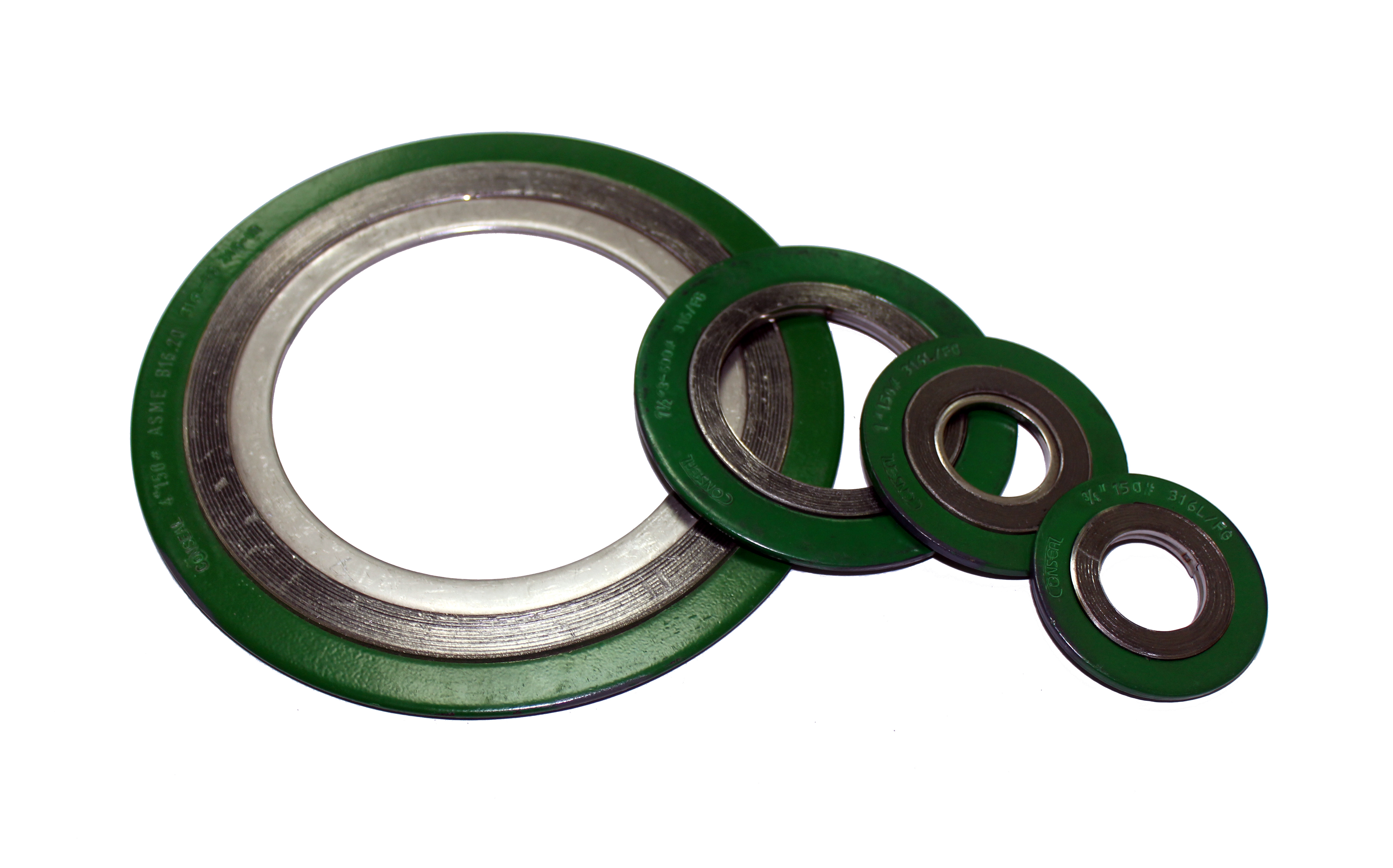 They are used worldwide for pipelines, refining plants, chemical or petrochemical plants, nuclear plants, compressors piping, cylinder heats, heat exchangers, etc. It is able to accommodate pressures from high vacuum to over 700 bar (10000 psi) and seal at temperatures from cryogenic to 1650°C. They are available in International standards, (ANSI B16.5, BS1560, BS10, BS4504,MSS SP44, DIN and AP1605) or custom made to individual sizes.
An external ring is used to center the gasket on flange face, provides additional radical strength to prevent gasket blow out and acts as a compression stop. General used on raised face and flat face flanges.
Similar to TP 12 but fitted with internal ring which gives an additional compression limiting stop and provide heat and corrosion barrier. Protecting gasket windings and preventing flange erosion. Suitable for use with raised face and flat face flanges and specified for high pressure/temperature service.