ELASTOMER O-RING
O-ring is a simple and versatile ring-shaped sealing device with a circular cross section. It is used to prevent the loss of fluid or gas. By absorbing the tolerance stack-up between connected surfaces in both dynamic and static applications, it acts as a compact and reliable sealing device. They are commonly used in machine design as they are low-cost, easy to manufacture and have simple mounting requirements.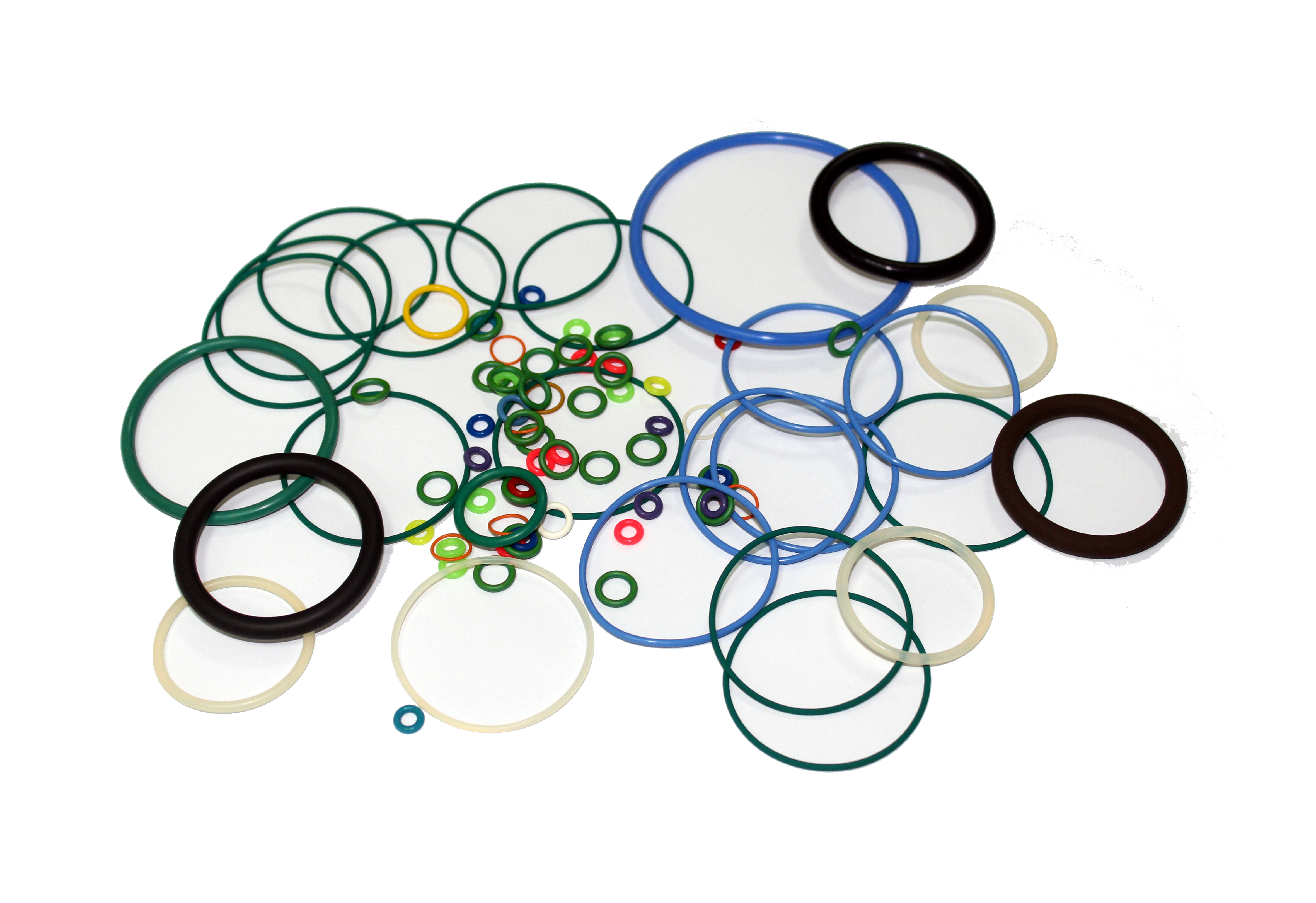 Materials available: Nitrile (NBR), Flurocarbon (FKM/Viton), Ethylene Propylene (EPDM), Hydrogenated Nitrile (HNBR)
Characteristics of O-rings:
Sealing over a wide range of pressure, temperature and tolerance
Ease of service, no smearing or retightening
No critical torque on tightening, therefore unlikely to cause structural damage
Requires little room and are light in weight
Can be reused, and advantage over non-elastic flat seals and crush-type gaskets
The duration of life in the correct application corresponds to the normal aging period of the O-ring material
O-ring failure is normally gradual and easily identified
Cost-effective
Where differing amounts of compression effects the seals function, an O-ring is not affected because metal to metal contact is generally allowed for.
O-ring compounds can be selected to resist most environmental extremes
PERFREZ® O-RING
Manufactured by Applied Seals, Perfrez® Perfluoroelastomer (FFKM) O-Rings uses best quality material to handle against extreme environments under aggressive chemical conditions. Our products can be customized to client specific requirements in terms of  thicknesses, lengths and sizes in the semicon industry.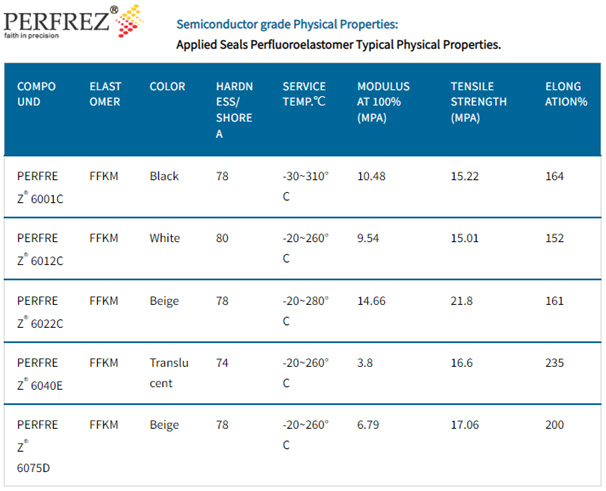 ※Not to be used for specification purpose
※ASTM D2240(pellet test specimens)
※ASTM D2240 and ASTM D1414 (AS-568A size -214 O-Ring Test specimens)
※All test are performed on AS 568A size -214 O-Rings
KALREZ O-RING
Manufactured by DuPont Performance Elastomers, Kalrez® parts are the elastomer seals of choice for customers who require the very best in the harshest processing environment. Supplying standard O-rings and custom shapes to meet your application needs, Kalrez® resists over 1,800 different chemicals while offering the high temperature stability of PTFE (327°C).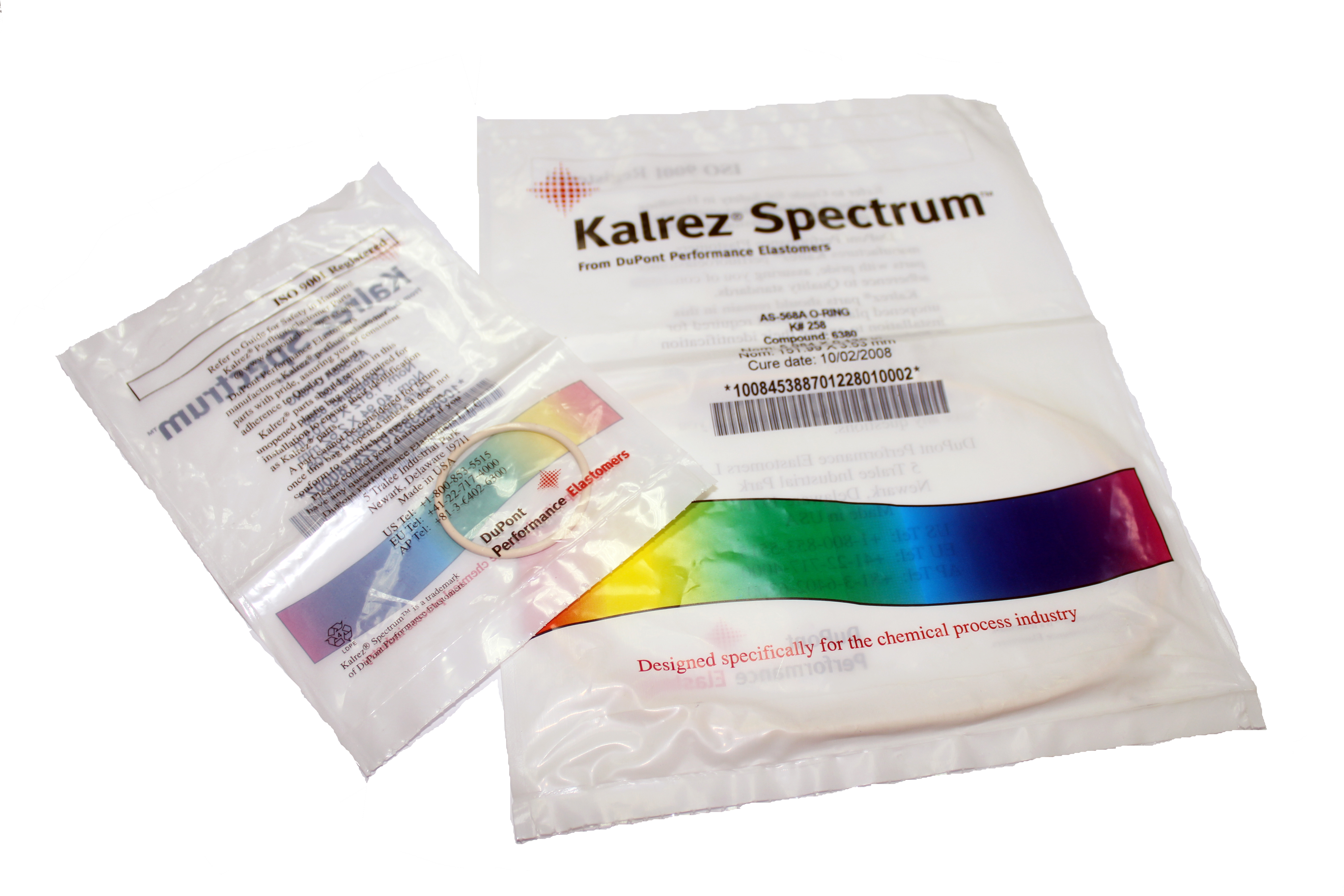 Types Available:
O-rings
Slabs and Sheets
Custom Parts and Shapes (Rod, tubing etc)
Kalrez® Compound Available:
Standard
4079, 6375, 7075
Special
6380, 7090, 0090, 0040, 1050LF
ENCAPSULATED O-RING
Encapsulated O-ring is a two-component circular seal consisting of Teflon encapsulation and elastomer (Silicone / Viton). Encapsulated in a Teflon jacket, it is a chemically resistant seal used to prevent passage of corrosive fluids or gases. This encapsulation protects the elastomer, which imparts memory to the seal, from hostile environments.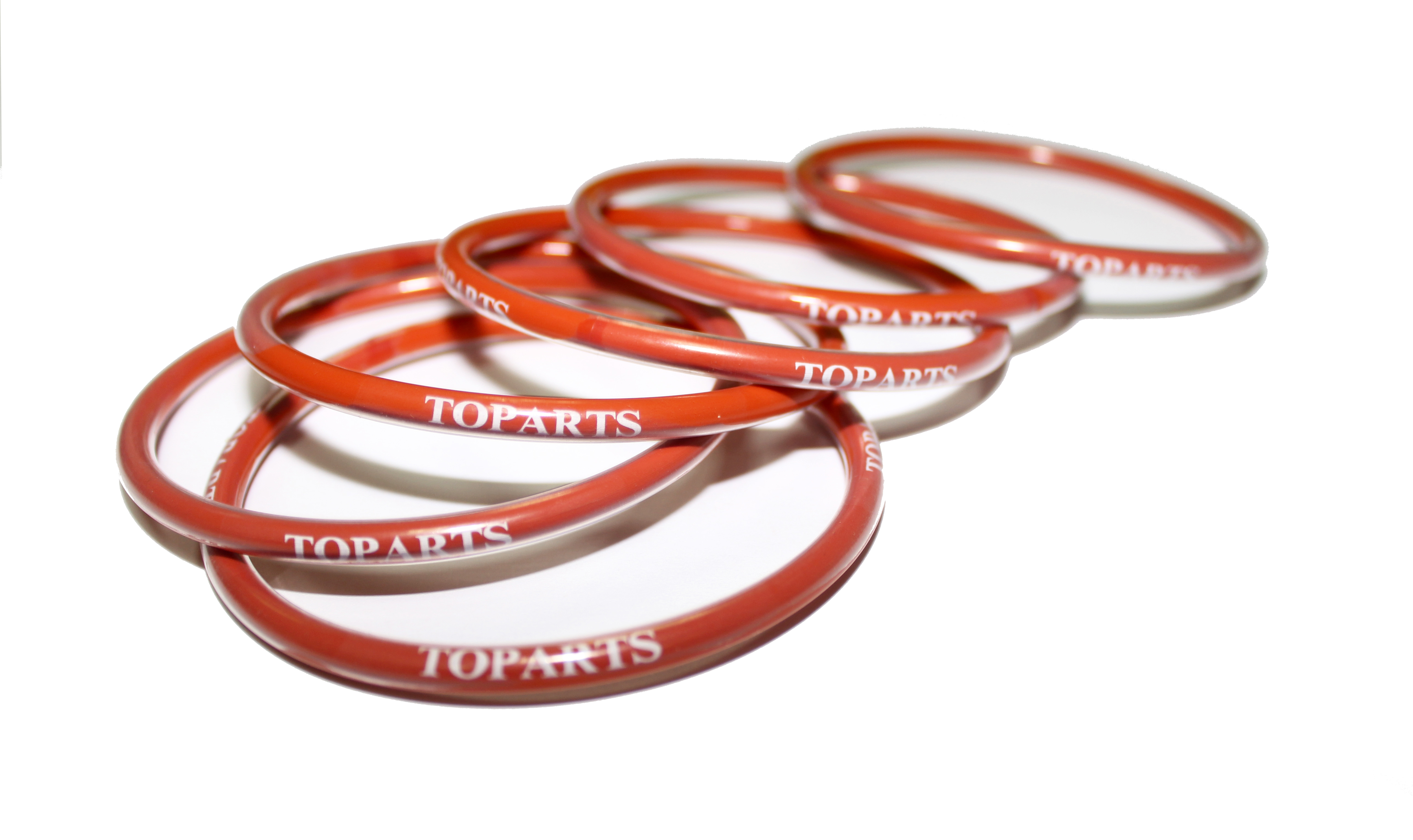 Characteristics of Encapsulated O-Rings:
Corrosion Resistant
Low absorption
Uniform dimensions
Non-flammable
Excellent Resilience
Enclosed Core
Reusable
Live Seal
Abrasion Resistant
Permeability
Chemically Inert
Impact Strength
Smooth surfaces
No Swelling
BACK UP RING
Back-up rings are used in conjunction with O-Rings in both static and dynamic sealing applications to help prevent extrusion in high pressure service or compensate for loose fitting parts. The use of loose fitting parts makes for cost reduction in the machining of unit components.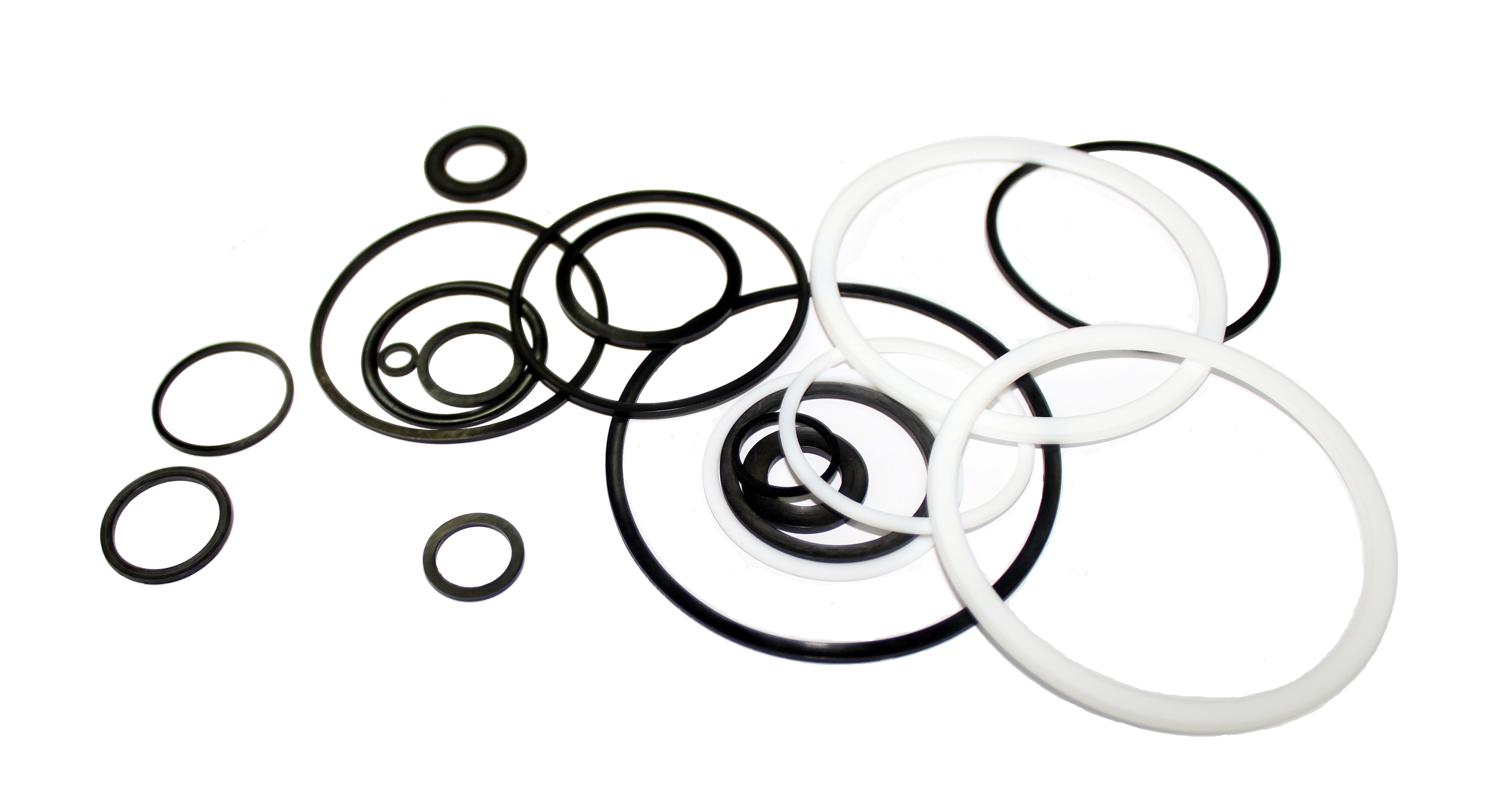 The 90 durometer curve may be used to find the maximum recommended clearance at a given pressure for temperatures up to 74°C. In using these curves, it must be remembered that cylinders tend to expand when pressurized. The extrusion curves can be used in 2 different ways to reap the benefits of backup ring, depending on the application. In low pressure seals, the curves will indicate wider permissible clearances than those given in the design charts. Tolerance on these can be opened up until they permit these larger clearances to occur, resulting in substantial machining economies. When tolerances are increased, however, one must check to be sure that squeeze values cannot become too high or too low.
In high pressure applications, the curves will indicate whether adding a backup ring will permit the use of standard catalogue gland dimensions or whether the clearance will need to reduced further.
In double acting seal assemblies, a backup ring is required on both sides of the O-ring. It is cheap insurance to use 2 backup rings even in single acting installations.
QUAD / X-RING
With a special sealing profile, Quad-rings have four lipped seals that has a double sealing function as compared to O-ring. A wide range of elastomer materials for both standard and special applications allows practically all liquid and gaseous media to be sealed. The choice of a suitable material is determined by the temperature, pressure and media. They are vulcanized as a continuous ring. Quad-rings are supplied to the American Standard AS 568 A.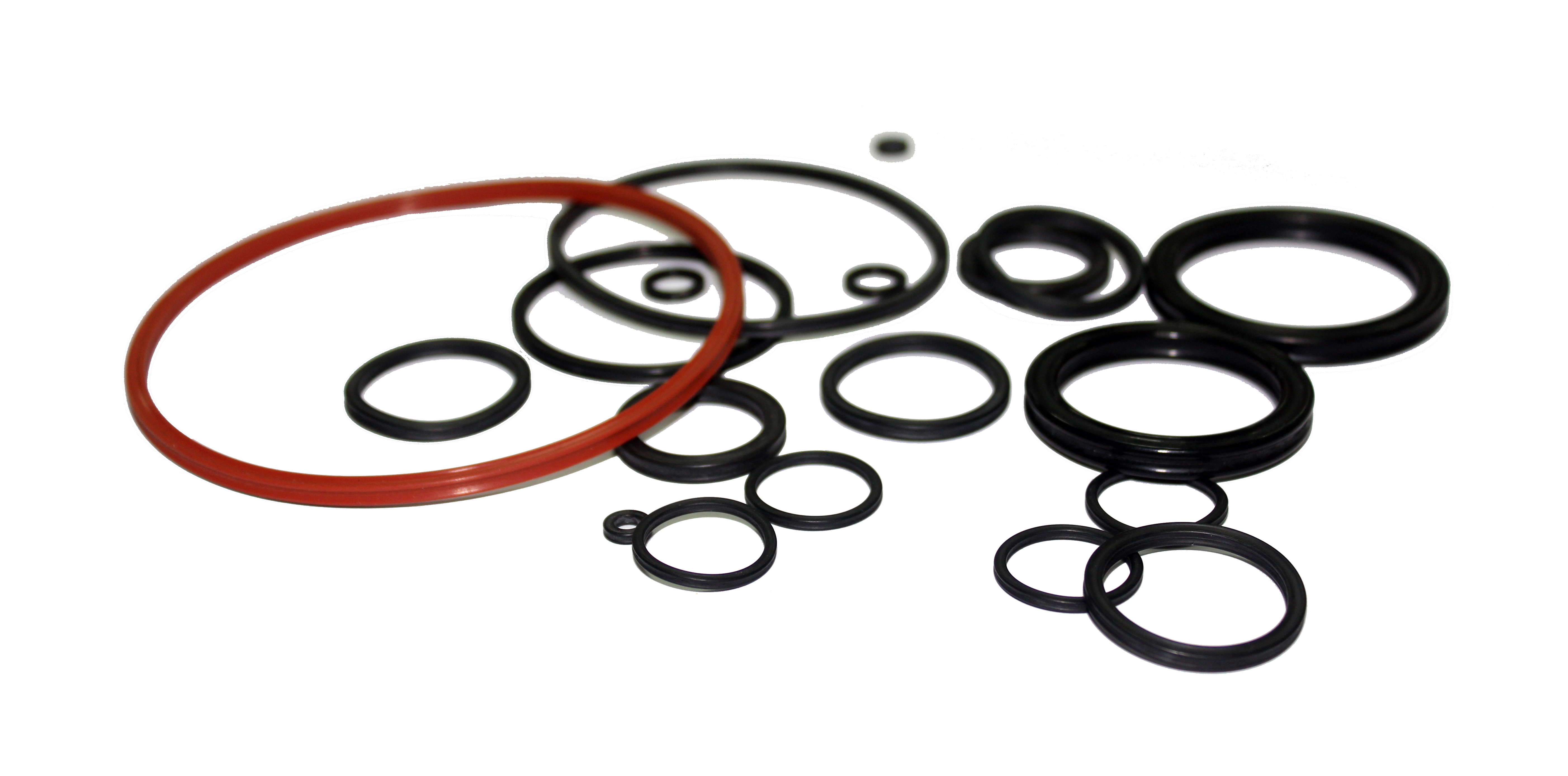 Characteristics of Quad-ring:
Avoid twisting in the groove.
The seal does not tend to roll in the groove during reciprocating movement.
Low friction. It requires less radial squeeze than a comparable O-ring.
Less squeeze mean less friction, less wear, and thus a longer service life
Very good sealing efficiency. Due to it special profile, a high sealing effect is achieved.
A lubricant reservoir formed between the sealing lips improves start up
O-RING KIT
30 sizes of O-rings in a handy storage case.
O-ring kit contains 30 of the most popular sizes, for