HYDRAULIC & PNEUMATIC SEALS
Hydraulic and Pneumatic Seals are a class of seals that are used in applications with either rotary or reciprocating motions.
Pneumatic Seals are exposed to air with a minimum amount of lubrication. They are often used in pneumatic cylinders and valves and usually are not under high pressure, but exposed to high operating speeds.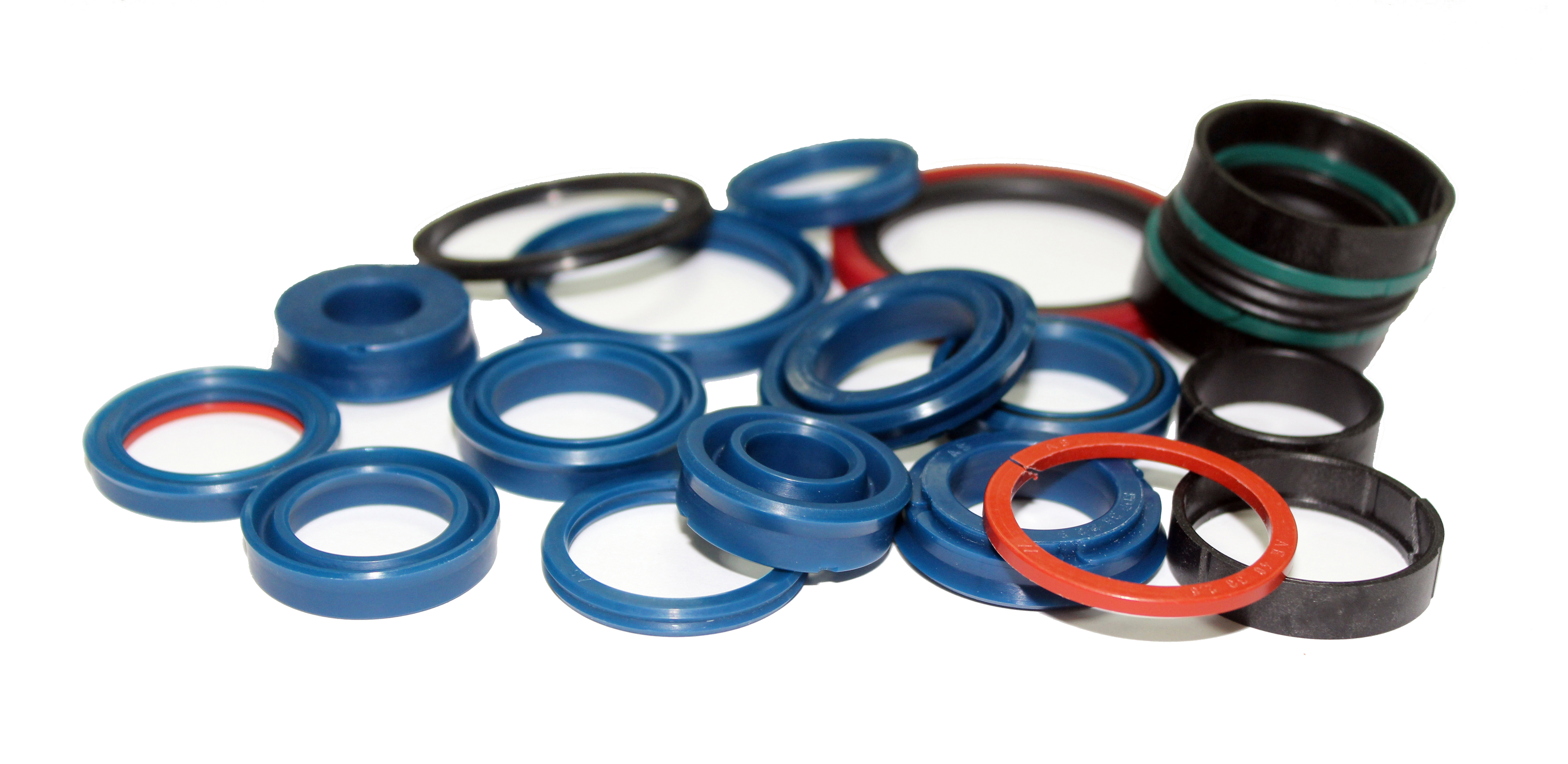 Hydraulic Seals are exposed to hydraulic fluids such as hydrocarbon and phosphate ester and are designed for high-pressure dynamic application. They are usually need to be higher friction seals than pneumatic seals but often under lower operating speeds.
We offer a wide range of standard and custom sized seal for Pneumatic / Hydraulic cylinders. These include:
Buffer Seals
Dust / Wiper Seals
Rod Seals
Piston Seals
Wear / Guide / Slide Rings or Tapes
Vee Packing Seals
Valve Seals
VEE – PACKING
Vee-packing is design for sealing rods, pistons and plungers in hydraulic cylinders and hydraulic presses. It is extremely suitable for medium to heavy duty applications. Vee-packing can accept low & high pressure, vigorous conditions & also if any misalignment between sealing gaps.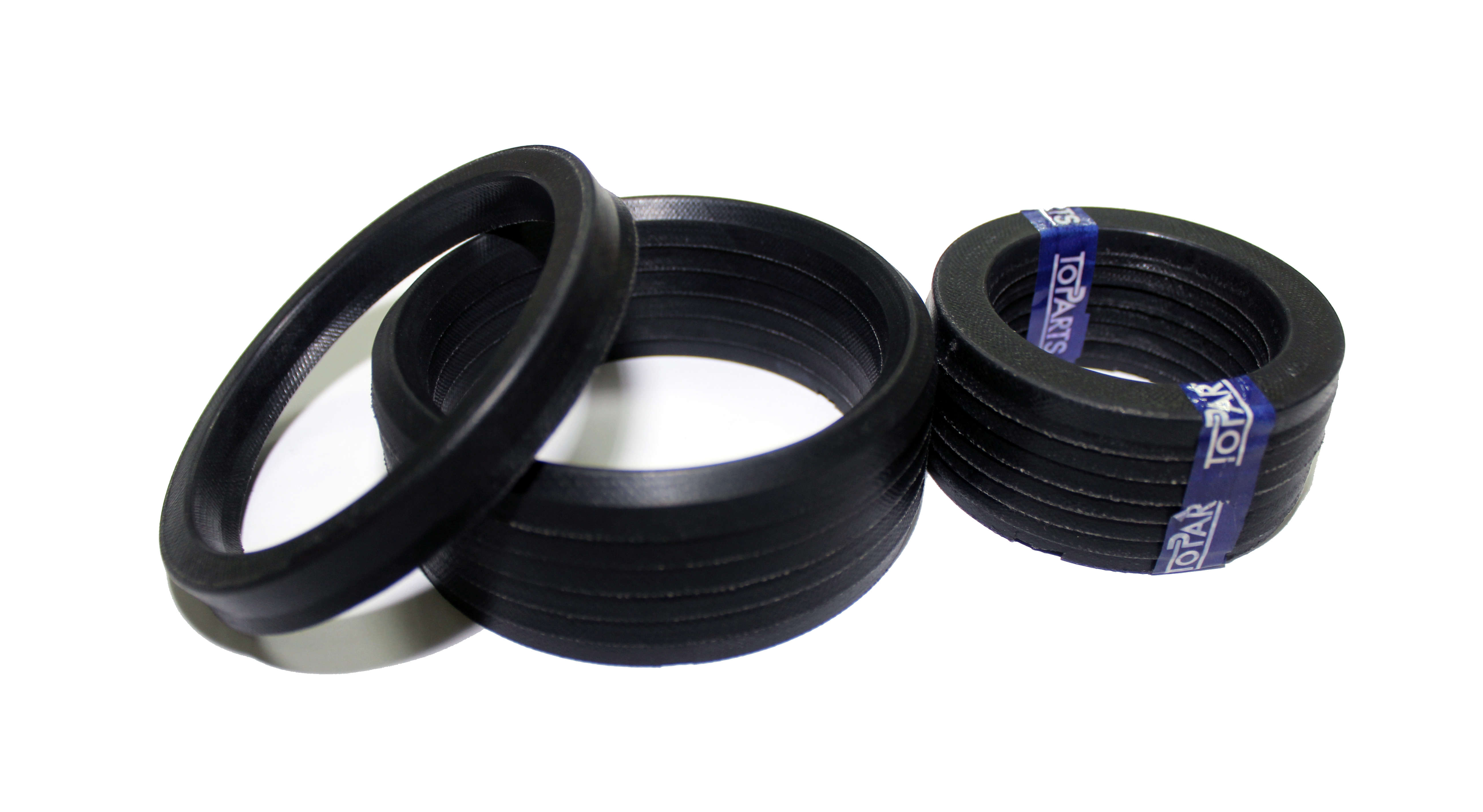 The seal is a combination of a Base seal, center V-Ring & pressure ring. The center ring is the main seal being flexible enough to retain high & low pressure, whereas the base seal supports the center ring from getting extruded against high pressures. The pressure ring helps in retaining the center ring profile& distributing pressure equally.
Our Vee-packing are made of reinforced cotton fabric and Nitrile elastomer, in standard version, to give good resilience, sealing efficiency and extrusion resistance. Sizes are available in Metrics and Inches with a combination of 1+5+1, a total of 7 pieces per set.
PTFE SEALS
The PTFE Seal consist of a PTFE sealing element and a rubber O-ring functions as elastic energizer. The required sealing effect is achieved by radial pressure, produced by the preloaded element and system pressure.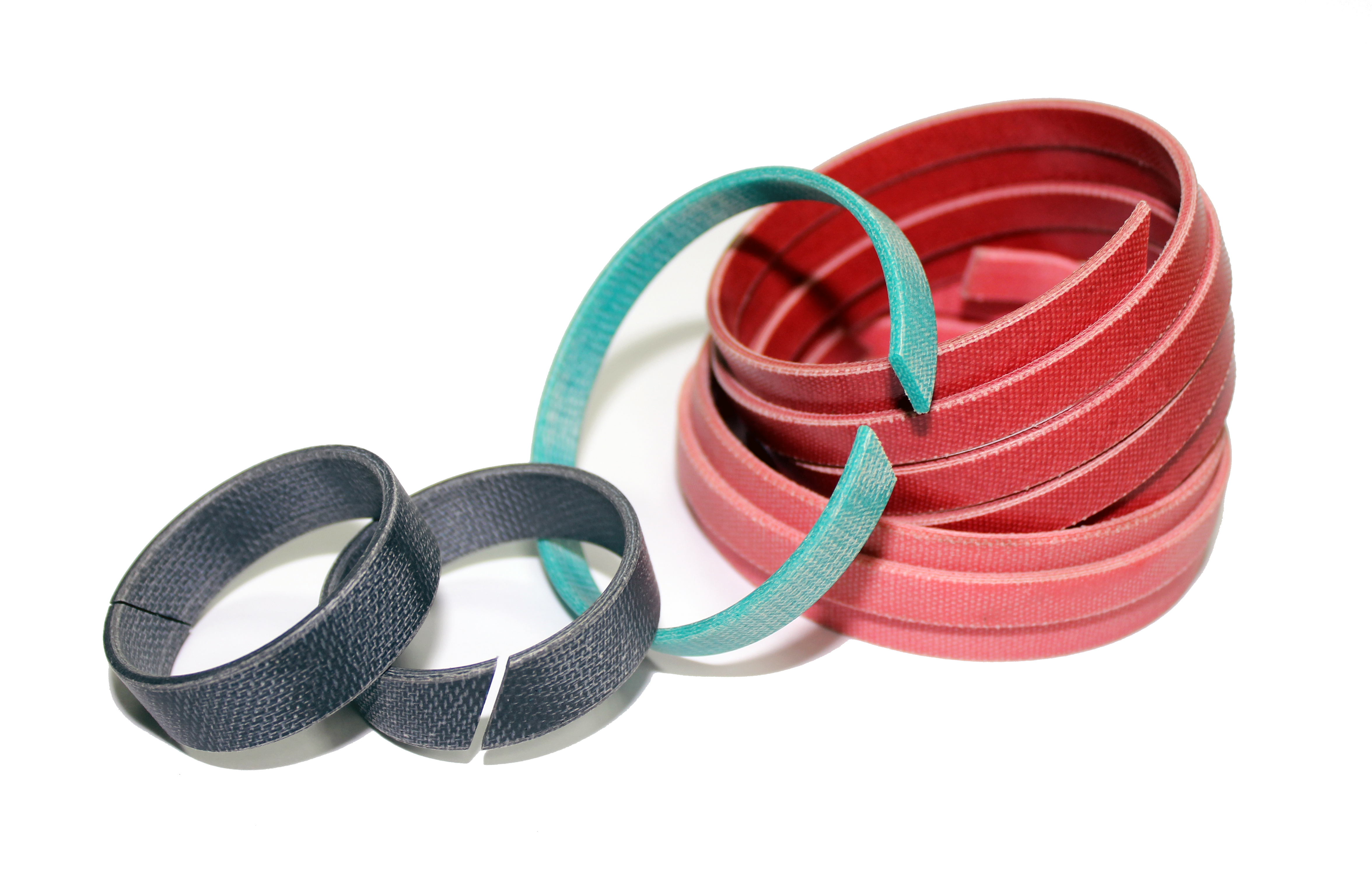 Characteristics of PTFE Seal:
wear resistance can be improved by proprietary fillers
very good in sealing most of chemicals
high extrusion resistance
good thermal conductivity (ranging from -450 deg F to +600 deg F)
easy fitting
Application:
low break-out and low friction hydraulic cylinder
low friction and no stick-slip pneumatic cylinder
Plunger
Cylinders in corrosive environment
Low friction cylinders in high-temperature application
Cylinders for machine tool and construction equipment
Cylinders for press/ extrusion/injection molding equipment
Cylinders for precise control application
FLEXISEAL
The flexiseal system is an advanced all-purpose sealing concept. It consists of all highly abrasive and chemical resistant PTFE-based POLON component and an energizing profiles spring. This design ensures a static sealing pressure of controlled size around the entire inside and outside circumference of the seal even without system pressure. They are used in dynamic and static applications where elastomer seals cannot meet the extreme operating conditions of harsh environments.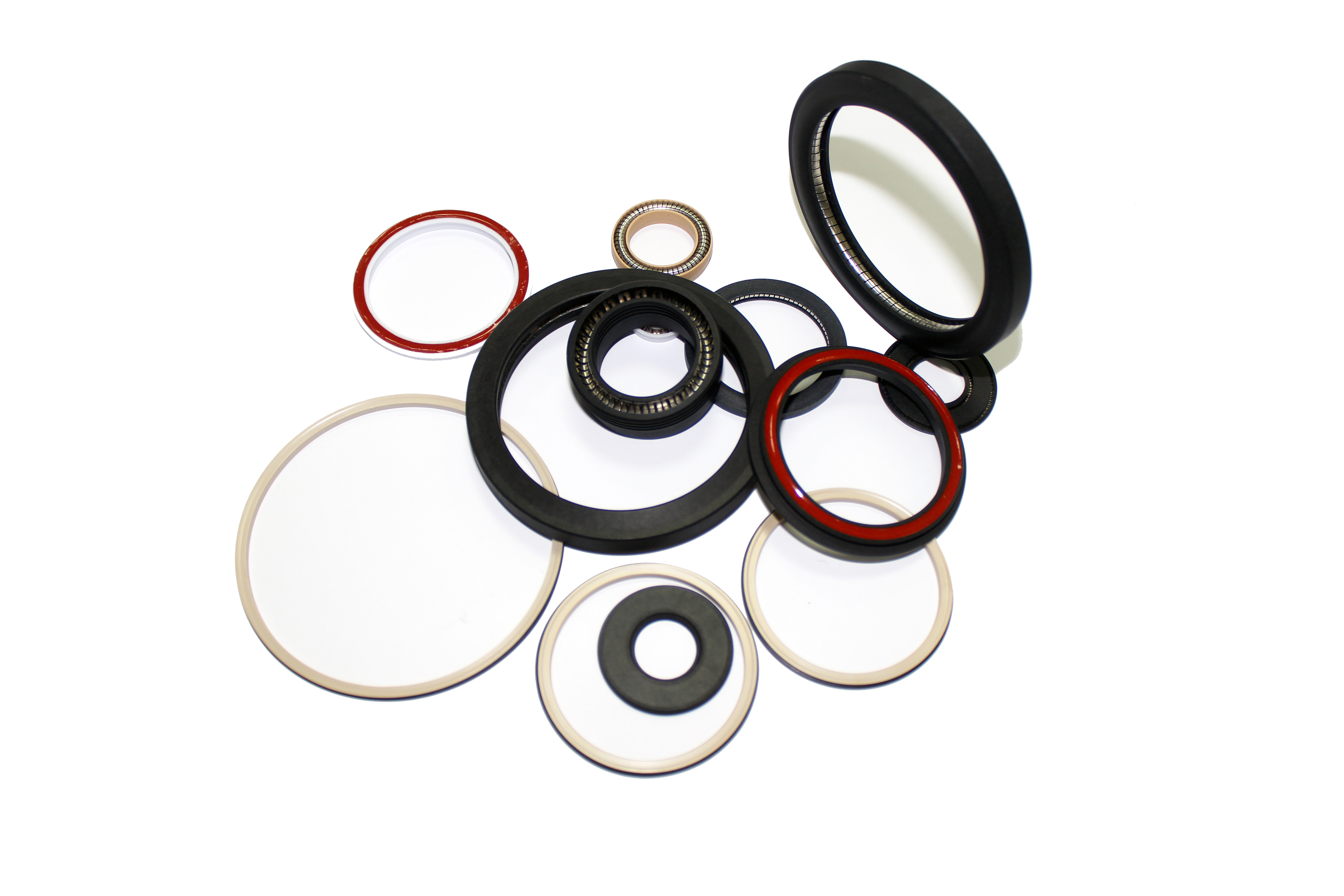 Characteristics of Flexiseal:
Extremely high chemical and thermal resistance.
Unlimited storing time.
Can be sterilized in autoclave or with any possible agent – though not with radioactive radiation.
Easy to clean in assembled as well as in disassembled state.
Prevent contamination from seal as it only contains a POLON component and a steel spring
No stick-slip effect and ultralow friction.
Very high sealing efficiency after a very short running-in period.
V-RING
The V-Ring seal is designed with a long flexible lip, the seal acts like an axial slinger. It can retain heavy lubricants and is highly effective in excluding contaminants. The V-Ring can be used as the primary seal or as a secondary back-up seal. The rubber V-ring can be stretched over flanges, couplings and sometimes over complete bearing housings without any unit disassembly.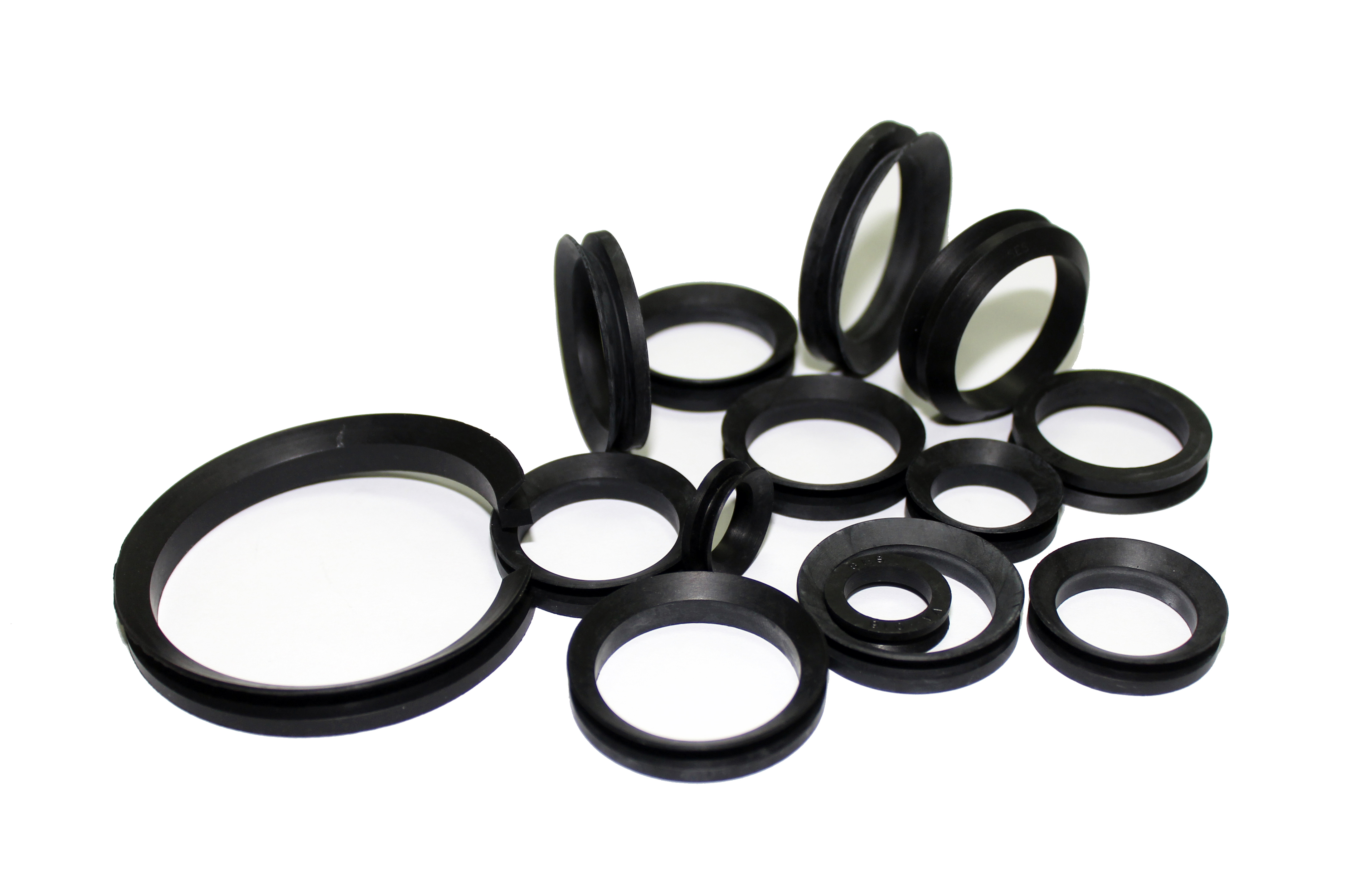 Because of the design of V-rings, it can perform well in dry applications. The capability of handling a greater amount of eccentricity and misalignment than most lip seals have shown the advantage of using a V-ring.
Materials
Nitrile rubber is the standard grade. It has excellent resistance to wear and withstands the majority of media to which a seal is exposed. Temperature range -40°C to +100°C.
Fluorocarbon rubber (VITON®) is used where the operating temperatures are more than +100°C, and in conjunction with certain aggressive chemicals. Temperature range -23°C to +150°C in dynamic applications, -45°C to +230°C in static applications.